Helping Milwaukee family business owners plan a successful transition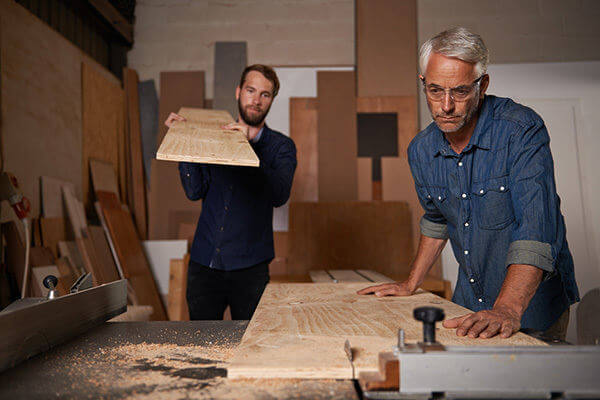 The importance of succession planning in family business
To successfully transition from generation to generation, a family business needs to adapt, serve and improve. Surprisingly, the majority of family businesses do not take the time to properly plan. As a result, they fall prey to the odds of company failure during either the second or third generation.
Every family business requires structure and commitment to realize the family's vision and enjoy a successful enterprise. The Giersch Group is a family business and has developed proven plans and guidelines to help other family-run businesses avoid common succession pitfalls and integrate a succession plan into the operations of the business.

Start planning with a free consultation
What is family business succession planning?
Successful succession planning aligns the needs and expectations of the current owners with the needs and ambitions of the next generation.
Most family business owners see succession planning as a difficult challenge. We see it as an important opportunity to maximize business potential and establish a multi-generational institution. Contact the Giersch Group for a free consultation to learn how we can help protect your family's values and business for future generations.
Family business succession template
"Exceptional service! The Giersh Group helped our 80-year-old Milwaukee manufacturing business successfully transition to its 5th generation. Peter Giersh and his team were instrumental in understanding the needs of both operating and non-operating family members leading to a succession plan amenable to all."
--Mike G., Jul 29, 2021
See Google Review
Three structures help family owned businesses succeed in planning a smooth succession.
1. Family Board: a separate decision-making entity
Having a family board allows for clarity in the decision making process. The board helps the family to develop the formal policies for business matters such as salaries, raises and promotions. A family board also improves the process conflict resolution when family members have conflicting goals, values or personalities. Relationships improve and tension eases when the discussion of business is kept out of family vacations and holiday gatherings.
2. Family Council: facilitates open communication
Communication within the family allows the family to clarify expectations on:
Succession
Development programs
Compensation & promotions
Ownership & distributions
Overall status of the business
Having a family council helps each family feel heard and helps families identify and address problems earlier.
3. Succession Planning: an invaluable process
Succession planning allows the family to set expectations for the next generation and to strategically implement business management systems and development programs for the next generation's leadership. Succession planning also allows the current generation to prepare for retirement financially and emotionally.
The Four Components of Family Run Businesses
In times of transition, it is essential to properly identify the different elements that are being transferred, their importance, and their relative value to each of the parties. At the Giersch Group, we emphasise four elements of the business whose value can be identified and transferred according to the wishes and needs of the parties involved.
Ownership

-- possession of equity shares in the company.
OWNERSHIP refers specifically to the private ownership of shares in the company. Traditionally there would be two primary documents: a buy/sell agreement and an owners agreement or operating agreement.
Control

-- the right and responsibility to make major decisions concerning the company, along with the ultimate responsibility for the company's results.
Major decisions are loosely defined as those which can potentially put the future of the company at risk. For example, engaging the company into a joint venture or partnership with another company, making a substantial investment in a new product line, taking on significant debt, and the sale of a majority of the shares of the company are examples of major decisions that could put the company at risk.
In many small companies, CONTROL is held by the majority shareholder. As a company grows, it is advantageous to form a Board of Directors made up primarily of shareholders with some outside directors to bring balance and objectivity.
Management -

- responsibility for some specific aspect or the overall day to day running of the company.
MANAGEMENT refers to the day to day operations of the business. Any family member or key employee who has responsibilities and/or decision making power would be considered under the heading of management.
MANAGEMENT is distinct from CONTROL because day to day decision making in the normal course of operations does not generally put the company at risk. It is important for the Board to make clear to the management where the line is to be drawn between management decisions and those decisions that are reserved for the Board of Directors. This is particularly important where several board members also hold management positions.
Economic Benefit

-- any type of compensation or anything of monetary value given by the company to an individual.
ECONOMIC BENEFIT refers to any type of compensation or anything of monetary value given by the company to an individual. In a family business environment, economic benefit decisions can create tension between family members who work in the business and those who do not.
Affordable Family Business Succession Planning Consultants
The Giersch Group believes in providing fairly priced succession planning services, bookkeeping, management consulting and fundraising to family-owned businesses and grassroots nonprofits throughout the Milwaukee metro area including Milwaukee, Waukesha, Ozaukee and Washington counties. Read testimonials from family businesses we've helped or contact us for a free consultation today.
Get a free consultation to learn more about family business succession planning.