Bookkeeping Services for Publishers
Giersch Group provides bookkeeping and accounting services for publishers all across the country from our offices in Brookfield, Milwaukee & Madison, WI.
Affordable, professional bookkeeping for publishers, agents and authors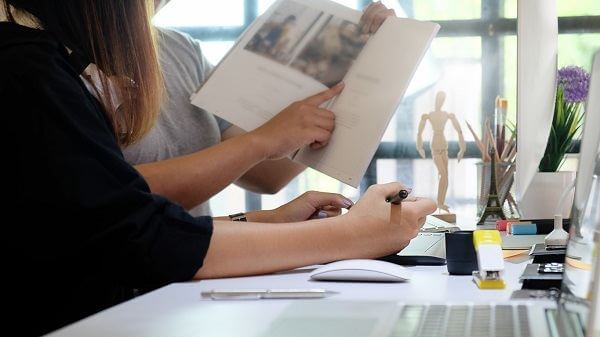 Our bookkeeping services for the publishers and authors provide CPA-ready books, insightful financial reporting & online accounting support at affordable rates.
The internet has dramatically changed how publishing companies operate. In the modern era publishers aren't simply publishing printed materials, they're publishing written content online and utilizing social media and other apps to publish work. It's never been easier to make money as a publishing company, and Giersch Group offers professional, affordable accounting services to publishers nationwide.
Independent publishers, small press operations and indie publishers often have difficulty monitoring the financial state of their business and lack the budget to hire a full-time bookkeeper to track royalties and handle taxes.
Giersch Group specializes in providing affordable, scalable accounting and bookkeeping services for publishing companies of all sizes and helps them navigate multiple sources of revenue. Whether you're an established publishing company with several agents or a one-person operation, Giersch Group provides timely, accurate financial information to identify the financial state of your company and create the best plan to maximize your profits and growth.
From our offices in Milwaukee, Brookfield and Madison, WI, our services are offered in-person or 100% online and available nationwide.
Keep Royalty Payments from Becoming a Royal Pain
Royalty deals can take many different forms and calculating them can get complicated. Royalty payments are often made in stages: an upfront payment when the royalty agreement is signed, and then regular payments based on the terms of the agreement. Whether you're a publishing company with a growing list of clients or an author receiving royalties from multiple sources, Giersch Group's bookkeeping service will help you stay on top of payments and provide an accurate monthly analysis of your financial data.
We are a certified QuickBooks™ Online ProAdvisor. QuickBooks™ is a cloud-based accounting program with the ability to manage royalty payments and track all profits and losses in one centralized location. QuickBooks™ gives you access to all cash flow data, balance sheets and tax information so you can stay aware of the financial state of your business year-round. We'll help you select the best QuickBooks™ software for your specific needs and budget.
Giersch Group provides all levels of bookkeeping service, scaled to the needs of your specific business. You can hire us to set up your books in QuickBooks™ and train your entire team on how to operate and manage your data, hire us to clean up your books and review them periodically or hire us to handle all of your bookkeeping needs.
Our QuickBooks™ Online services for publishers include:
QuickBooks™ installation & setup as a standalone service
A review of your books to ensure accuracy
Organizing your books and fixing mistakes
Training on how to view & interpret your financial statements
Training on how to use QuickBooks™ advanced features
Ongoing support for QuickBooks™ programs including payroll, accounts receivable, accounts payable, job costing, customized reporting and inventory tracking
Complete bookkeeping support and regular reporting in full accrual accounting
Bookkeeping Reporting Packages for Publishers
The Giersch Group offers monthly, quarterly or annual reporting packages in full accrual accounting. The packages include:
Beginning balance sheet for the period
Ending balance sheet for the period
Income statement for the period vs. budget and/or previous period
YTD income statement vs. budget and/or previous period
Cash flow statement for the period
Company dashboard of basic financial ratios
Our reports are more than just numbers on a page. We offer an analysis of your numbers and suggestions for how to maximize your profitability.
Professional accounting services made affordable
Giersch Group knows cost is always a concern for small publishing businesses and independent authors. As a small business, we understand the financial realities of limited budgets. We scale our services to address the unique needs of each business, enabling them to get corporate-quality bookkeeping services at a more affordable cost than hiring a full-time bookkeeper.
We work to understand the unique challenges your business is facing, then we develop a customized plan for your specific needs and budget. We offer a variety of services alongside our standard bookkeeping and online accounting services, including:
Service area for outsourced & onsite publishing industry bookkeeping services
Our 100% virtual outsourced bookkeeping services for publishers are available anywhere in or outside of Wisconsin. From our offices in Milwaukee, Madison and Brookfield we primarily serve publishing houses, agents & authors located in and around Milwaukee, Dane, Ozaukee, Washington and Waukesha counties.
Milwaukee County bookkeepers serving: Downtown Milwaukee, Shorewood, Whitefish Bay, Glendale, Fox Point, River Hills, Brown Deer, Granville, Butler, Wauwatosa, West Allis, Greenfield, Hales Corners, Greendale, Franklin, Oak Creek, South Milwaukee, Cudahy, St. Francis & everywhere in between.
Dane County bookkeepers serving: Madison, Middleton, Waunakee, Windsor, Sun Prairie, Cottage Grove, McFarland, Fitchburg, Verona, Riley, Pine Bluff, Cross Plains, Springfield Corners, Black Earth, Mazomanie, Mt. Horeb, Belleville, Rutland, Stoughton, Kengosa, Deerfield, Monona & everywhere in between.
Ozaukee County bookkeepers serving: Mequon, Thiensville, Cedarburg, Lakefield, Grafton, Saukville, Port Washington, Knellsville, Newburg, Waubeka, Fredonia, Holy Cross, Belgium, Dacada & everywhere in between.
Waukesha County bookkeepers serving: Waukesha, Brookfield, New Berlin, Muskego, Big Bend, Vernon, Mukwonago, Jericho, Eagle, North Prairie, Saylesville, Genesee Depot, Ottawa, Wales, Dousman, Delafield, Oconomowoc, Monterey, Nashotah, Hartland, Merton, Town of Lisbon, Sussex, Lannon, Menomonee Falls, Butler, Pewaukee & everywhere in between.
Washington County bookkeepers serving: Germantown, Hubertus, Richfield, Thompson, Ackerville, Hartford, Kirchhayn, Jackson, Cedar Creek, Slinger, Cedar Lake, St. Lawrence, Allenton, Addison, St. Anthony, Kohlsville, Wayne, Kewaskum, Boltonville, Fillmore, Cheeseville, Young America, West Bend, Nabob and everywhere in between.
Get a free bookkeeping consultation in Wisconsin
Giersch Group offers free, no-obligation consultations for publishers interested in learning more about our services. Meet with us in person at one of our offices in Milwaukee, Brookfield or Madison, WI or take advantage of our 100% remote services available nationwide.
Contact us online or call to schedule a free 30-minute consultation.
Frequently Asked Questions:
Yes! As a business grows, keeping track of royalties becomes increasingly harder. Calculating them can be complex and time-consuming. Our services will assist and teach you how to be more efficient and save time.
Absolutely. While spreadsheets certainly work, a software program like QuickBooks™ will save time, create reports faster, automate tasks, provide double entry, generate complex historical analytic reports and catch errors that spreadsheets miss. Our advisors help make the switch and train your staff.
The bottom line to generate income is to sell books for more than it costs to make them, then keep the difference. This isn't easy and setting the right prices for profitability is difficult. Our services look at the hard numbers and help create a profitable business plan.