Affordable bookkeeping services for interior designers
The Giersch Group provides support for interior designers all over the US from our offices in Brookfield, Milwaukee & Madison, WI.
Interior design accounting & consulting in Wisconsin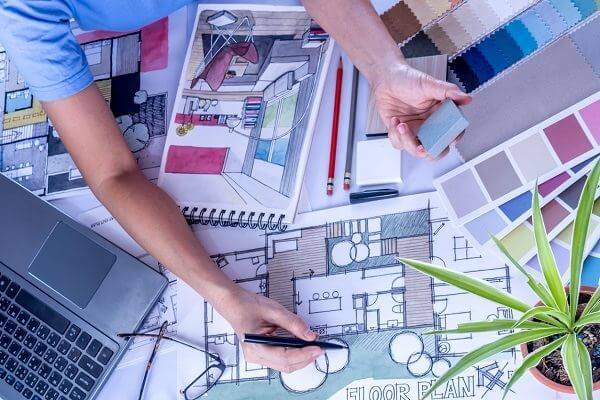 You've got your hands full running your business. Our affordable bookkeeping services provide financial clarity & peace of mind.
It's not surprising most small interior design firms can't afford to hire a full-time bookkeeper. While there may be a lot of money coming in, most of it is used to cover overhead long before it ends up in the profits column. Keeping track of the money coming in and going out gets increasingly difficult as business picks up, and as a result many successful interior designers have no idea how much they are actually earning after expenses.
Even when profits are calculated accurately, it can be difficult to understand what specific changes are needed to increase profits and grow your business. In addition to bookkeeping, our firm offers management consulting services for interior designers and all types of small businesses. Our experienced professionals will not only give you a clear picture of the current financial health of your business, but establish and implement a strategic plan to resolve your most time-sensitive concerns and build long-term success.
The Giersch Group is a family-run business, and we have an affinity for other small businesses and love helping them achieve their financial goals. We keep our pricing affordable and can honestly say we offer the best value in outsourced bookkeeping and consulting services. Whether you are looking for accounting for architects or bookkeeping for artists, we can help all types of businesses. We draw many of our clients from southeast Wisconsin, where we have offices in Milwaukee, Brookfield or Madison - though our services are 100% virtual and available nationwide.
Contact us for a free consultation, to learn how we can help improve your relationship with numbers at a price you can afford.
Online accounting services for interior designers
Design firm testimonial
"I've worked with Peter Giersch on and off for many years. He and his team have helped me with M&A, management and strategy. They took over our books a few years ago and have done a solid job. I recommend them highly."
--Jeff Tredo, Tredo Group LLC
Outsourcing your bookkeeping and migrating to online accounting software saves valuable time. You'll have an experienced bookkeeper handling your books, which is much more efficient than trying to figure it out on your own.
Locally outsourced bookkeeping vs. online-only providers
When it comes to choosing the right bookkeeping service, you really need to determine how important it is for you to have someone local who you can meet with to go over your financial data and resolve any issues or questions you may have. We cultivate longstanding relationships with our clients based not only on the quality of our work, but also our availability and customizable services – we take the time to get to know you and your business, and you only pay for the services you need.
Cost-wise, we're competitive with the nationwide online bookkeeping services, and we offer additional business services (including management consulting, payroll/HR, and virtual CFO) tailored to meet your needs as your business evolves.
Helping interior design companies manage money & other resources
Interior design bookkeeping services from the Giersch Group use full accrual accounting to provide a clear picture of the financial health of your business. You'll have CPA-ready books, regular reports and online accounting support so you have the detailed, accurate and timely data you need to manage your business more profitably. This gives you more time to actually run your business.
Our bookkeeping and accounting services for interior designers include:
Tax filing for employer withholding and sales & use taxes
Audit support
Setup, training, or cleanup in QuickBooks Online or the online accounting software of your choice
Payroll processing & other basic HR services
Budgeting & financial modeling
Check writing (A/P) and collections calls (A/R)
Bank & credit card reconciliations
Financial reporting focused on the insights that have the most value for you
Learn more about how our bookkeeping services work, or just get in touch to schedule a free consultation.
Bookkeeping for interior designers in & outside Wisconsin
Our bookkeeping services are available anywhere in the nation. We primarily serve interior designers located in and around our three offices in Milwaukee, Brookfield, and Madison.
Milwaukee County bookkeepers serving: Downtown Milwaukee, Shorewood, Whitefish Bay, Glendale, Fox Point, River Hills, Brown Deer, Granville, Butler, Wauwatosa, West Allis, Greenfield, Hales Corners, Greendale, Franklin, Oak Creek, South Milwaukee, Cudahy, St. Francis & everywhere in between.
Dane County bookkeepers serving: Madison, Middleton, Waunakee, Windsor, Sun Prairie, Cottage Grove, McFarland, Fitchburg, Verona, Riley, Pine Bluff, Cross Plains, Springfield Corners, Black Earth, Mazomanie, Mt. Horeb, Belleville, Rutland, Stoughton, Kengosa, Deerfield, Monona & everywhere in between.
Ozaukee County bookkeepers serving: Mequon, Thiensville, Cedarburg, Lakefield, Grafton, Saukville, Port Washington, Knellsville, Newburg, Waubeka, Fredonia, Holy Cross, Belgium, Dacada & everywhere in between.
Waukesha County bookkeepers serving: Waukesha, Brookfield, New Berlin, Muskego, Big Bend, Vernon, Mukwonago, Jericho, Eagle, North Prairie, Saylesville, Genesee Depot, Ottawa, Wales, Dousman, Delafield, Oconomowoc, Monterey, Nashotah, Hartland, Merton, Town of Lisbon, Sussex, Lannon, Menomonee Falls, Butler, Pewaukee & everywhere in between.
Washington County bookkeepers serving: Germantown, Hubertus, Richfield, Thompson, Ackerville, Hartford, Kirchhayn, Jackson, Cedar Creek, Slinger, Cedar Lake, St. Lawrence, Allenton, Addison, St. Anthony, Kohlsville, Wayne, Kewaskum, Boltonville, Fillmore, Cheeseville, Young America, West Bend, Nabob and everywhere in between.
We also work with self-employed professionals and businesses in related fields including: furniture stores, contractors, architects, franchisees and engineering firms.
Request a free interior design bookkeeping consultation
Call or send us a message online to schedule a time to meet with us for a free, no-obligation 30-minute consultation. Bring along your balance sheet and we'll give you an analysis, or just bring your questions. For your convenience, we can meet online, or at any of our three locations – Milwaukee, Brookfield or Madison. Our services are 100% online and available nationwide.
Contact us online today for a no-pressure meeting to learn more about our services.
Frequently Asked Questions:
Yes. As a small business ourselves, Giersch Group offers tailored plans that meet businesses at their current level. Outsourcing a bookkeeper will also give invaluable information that will help your business turn more profit.
The use of full accrual accounting can provide a complete snapshot of the health of your business. In a free consultation with Giersch Group, we'll go over your balance sheet and create a plan that increases your profitability. Managing cash flow, making sure you collect money before paying off vendors, managing operating costs and providing billing advice are just some of the ways we help our interior design clients.
The top 5 accounting tips for interior designers are to keep track of time, track recoverable expenses, use purchase orders, stay consistent on invoices and use good business management software. Giersch Group services can help guide you through these practices.