Bookkeeping for bakery businesses
The Giersch Group serves businesses in the foodservice industry all over the nation from our offices in Brookfield, Milwaukee and Madison, WI.
Affordable accounting services for bakeries, cake businesses & pastry shops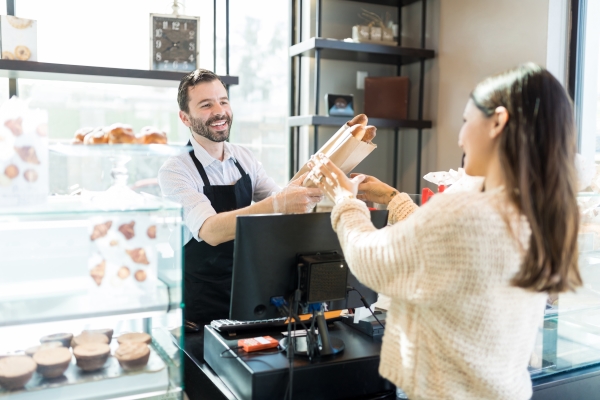 We keep your books fresh & provide insightful financial reporting to help you grow your bakery business.
As a bakery business, it is extremely important to be aware of your profits and losses. Many bakeries have no idea how important accurate bookkeeping is. Just like measuring ingredients for a pastry, you must measure your financials if you are looking to grow your bakery business to be more profitable. Your pastries must always be accounted for and similar to how your recipes have improved over time, what is measured financially can continuously be improved.
The Giersch Group has deep experience helping foodservice businesses improve profitability through impeccable bookkeeping and insightful financial reporting.
We don't just "do your books" - we show you how to understand and use your financial statements to your advantage. Our services take the stress out of bakery accounting so you can focus on running your business. Get a free 30-minute consultation to learn more about our services, pricing, and how we can help. Our services are 100% virtual and available nationwide.
Bakery accounting focused on raising your profits
Accurate bookkeeping can improve both new and well-established bakeries. Giersch Group offers bookkeeping services such as:
CPA-ready books
Regular financial reporting
Insights into using your financial data to grow your business
Cleanup/setup/training/support in bakery accounting software
You work hard for your bakery. Before you entrust all of your financials to a bookkeeping firm, make sure you're getting the level of service you deserve. The Giersch Group has the expertise and the passion it takes to deliver the best value to hardworking small business owners. Learn more about how we keep our service affordable for small business owners or contact us for a free consultation today.
Accounting software for bakeries
Choosing accounting software for your bakery can be daunting without the right experience or guidance. We recommend our clients migrate to QuickBooks® Online or a similar cloud-based accounting software for convenience and efficiency. That said, we can work with any bakery accounting software you choose.
We can help you select, set up, clean up, or get the most value out of your accounting software. Learn more about your options and how we can help you streamline your bakery accounting – request a free accounting consultation today.
Small bakery financial statements
The main function of our proven bookkeeping service is providing monthly, quarterly and annual reporting packages for your bakery or cake business. Financial statements provide invaluable snapshots of your business' current financial position, overall performance, and cash flow. When you receive regular financial statements and learn how to analyze them, you can make more informed decisions and improve your bottom line.
Getting familiar with accounting terminology can be intimidating for first-time bakery owners – especially when managing the day to day operations of your business. Our services make it easy to grasp the purpose of each financial statement, and improve your mastery of bakery accounting transactions, chart of accounts for a bakery, cost accounting, cost of goods sold, and creating a revenue model for your bakery.
Bakery consulting services
We offer business consulting services for small and mid-sized businesses at flexible and affordable rates. During your free consultation, we'll get to know you and your business, and answer your questions.
The Giersch Group has helped a variety of Wisconsin small businesses organize their bookkeeping and gain control of their finances. Read testimonials from our clients, and call or email us to schedule a no-pressure consultation at one of our offices.
Better bookkeeping services for all types of food businesses
Whether you have an established bakery or a growing business, our services will help you create a better relationship with your bookkeeping so you can make better financial decisions.
Giersch Group professionals provide invaluable financial reporting and analysis for any type of hospitality industry business including:
Bagel & pastry shops
Delis & sandwich shops
Nightclubs
Caterers
Food Trucks
Franchisees
Cafes & coffee shops
Bakeries
Ice cream, frozen yogurt & custard parlors
Juice bars
Candy makers & chocolatiers
Concessions stands
Fruit & vegetable stands
We have deep experience in accounting and consulting for franchise businesses, and work with entrepreneurs and small business owners all the time. They can afford our services, and so you can you. Get started with a completely free, no-obligation consult at our Milwaukee, Madison, or Brookfield office.
Serving up fresh, CPA-ready books for bakeries anywhere in the state - or nation
Our 100% virtual outsourced bookkeeping and CFO services are available anywhere. We have three southeast Wisconsin locations to best serve your Milwaukee, Dane, Ozaukee, Washington, and Waukesha County-based business.
Milwaukee County bookkeepers serving: Downtown Milwaukee, Shorewood, Whitefish Bay, Glendale, Fox Point, River Hills, Brown Deer, Granville, Butler, Wauwatosa, West Allis, Greenfield, Hales Corners, Greendale, Franklin, Oak Creek, South Milwaukee, Cudahy, St. Francis & everywhere in between.
Dane County bookkeepers serving: Madison, Middleton, Waunakee, Windsor, Sun Prairie, Cottage Grove, McFarland, Fitchburg, Verona, Riley, Pine Bluff, Cross Plains, Springfield Corners, Black Earth, Mazomanie, Mt. Horeb, Belleville, Rutland, Stoughton, Kengosa, Deerfield, Monona & everywhere in between.
Ozaukee County bookkeepers serving: Mequon, Thiensville, Cedarburg, Lakefield, Grafton, Saukville, Port Washington, Knellsville, Newburg, Waubeka, Fredonia, Holy Cross, Belgium, Dacada & everywhere in between.
Waukesha County bookkeepers serving: Waukesha, Brookfield, New Berlin, Muskego, Big Bend, Vernon, Mukwonago, Jericho, Eagle, North Prairie, Saylesville, Genesee Depot, Ottawa, Wales, Dousman, Delafield, Oconomowoc, Monterey, Nashotah, Hartland, Merton, Town of Lisbon, Sussex, Lannon, Menomonee Falls, Butler, Pewaukee & everywhere in between.
Washington County bookkeepers serving: Germantown, Hubertus, Richfield, Thompson, Ackerville, Hartford, Kirchhayn, Jackson, Cedar Creek, Slinger, Cedar Lake, St. Lawrence, Allenton, Addison, St. Anthony, Kohlsville, Wayne, Kewaskum, Boltonville, Fillmore, Cheeseville, Young America, West Bend, Nabob and everywhere in between.
Get a free accounting consultation for your bakery business
Running a bakery or food service business means dealing with constant change in the form of staff turnover, seasonal business fluctuation, food and energy costs, and tax law changes. Protect your investment and give your bakery the greatest chance of success with a steady partner providing timely, accurate financial information, and objective assessment. All services from the Giersch Group are available 100% online for businesses nationwide.
We offer free, no-obligation consultations so you can learn more about our services, our pricing, and how we can help. We can meet at one of our offices, virtually, or on the phone. Reach out today to get started!
Contact the Giersch Group online or give us a call to book your free bakery accounting consultation.
Frequently Asked Questions:
A bakery must be aware of profits and losses to generate cash flow and surpass competitors. This can be tough to do alone on top of creating quality goods and managing employees. Outsourcing a bookkeeper will help you understand your revenue streams and business expenses. Your bookkeeper will also provide accurate reports when needed.
Yes. Impeccable bookkeeping and insightful financial reporting are imperative for understanding where businesses can improve. Giersch Group bookkeepers show you how to navigate your finances for optimal success.
Yes. Giersch Group is ready to help small and large bakeries at any financial level. Outsourcing a bookkeeper is an investment that promises to yield a high return.