Wisconsin's best value in bookkeeping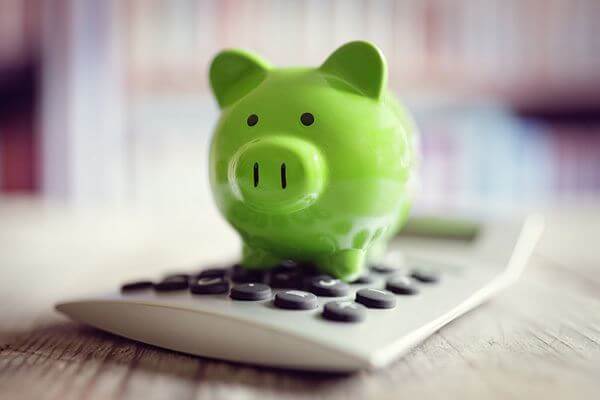 Accounting fees, bookkeeping rates, consulting costs - it all comes down to your money. We offer invaluable services for a reasonable price.
How pricing for bookkeeping services works
The cost of our bookkeeping services is based on your needs.
Step one is evaluating your current books and fixing the problems we find. Going forward, we'll work with you to establish an affordable monthly fee for services tailored to your business and your invoice will reflect the hourly fees of the professionals assigned to work on your account.
Currently, our hourly fees are:
$50 per hour for Associates
$75 per hour for Senior Associates
$125 per hour for Client Controllers
No surprises: Billing will be based on a budget we agree upon together ahead of time. During your intake meeting, and again after setting up your financial systems, we'll discuss monthly and annual budget targets. You'll have plenty of chances to revisit the budget throughout the process.
Our professionals are passionate about helping small and family-owned businesses succeed. We work with small business owners all the time. They can afford our bookkeeping services and so you can you.

Get your pricing
What's the average cost of small business bookkeeping services?
The industry benchmark for small businesses is to pay between 1% and 2% of total annual revenue for bookkeeping and related support.
Many small business owners pay a part-time or freelance bookkeeper an hourly rate of $25. Freelance bookkeepers are often former accounting firm employees with limited experience and resources. For an hourly rate of $25 you are not getting the benefits of professional bookkeeping.
At the other end of the spectrum are large bookkeeping firms who charge an average of $150-$200 per hour. Small enterprise bookkeeping is an annoyance for big firms, and you won't get the level of service you deserve.
Contact the Giersch Group today for a free initial consultation and discover the best value in bookkeeping. We have offices in Milwaukee, Brookfield, and Madison, Wisconsin.
How much should I pay for bookkeeping services?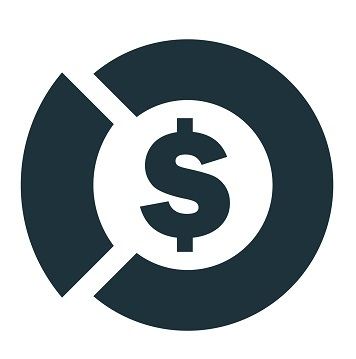 Every business is unique. We look beyond the average cost of bookkeeping services and create a package with the greatest value for YOUR business.
Our clients often ask us: how much should a small business spend on accounting and bookkeeping services?
It's a difficult question, and there's no direct answer when it comes to the small business side of things; while one client may request payroll services, others may want help with bill pay, invoicing, or tax compliance.
Basic bookkeeping services for a privately held, owner-operated business under $3M in annual revenue can cost anywhere in the range of $5000 to $40,000 per year depending upon the amount and types of services required.
The most important variables are whether you need full time or part time bookkeeping and whether or not your bookkeeper is being hired as an office manager and administrator. Annual salary for full time bookkeepers who perform other office duties can range from $30,000 to $50,000 (plus benefits).
Many entrepreneurs will outsource their bookkeeping because of the technical nature of financial accounting. Hiring an individual bookkeeper or using a temporary placement service is common, but turnover can be detrimental to the integrity of financial statements. In addition, low cost, hourly bookkeepers often do not have the technical expertise to handle more sophisticated issues like sales tax filings and certain audit procedures.
We surveyed college professors and compiled the research to help our clients budget for bookkeeping services:
Starting with the concept of a business model, you should have an idea of what percentage of revenue you can spend on key areas and still make a profit. Our article What should my business model be? explains how to create a business model and determine what percentage of revenue should be spent on bookkeeping.
For corporate businesses, accounting costs are between 1-2%; many have an in-house accounting/bookkeeping team. Their total accounting costs can vary depending on the number of employees on the team, but each full-time salary can be about $55,000.1
According to accounting and finance professors at the University of Wisconsin-Milwaukee, small businesses can spend anywhere from 1-5% of revenue on bookkeeping, with some spending even more.
For small businesses, they are likely to spend a higher percentage of revenue on bookkeeping and financial consulting costs. Starting with 1-2% of revenue is a good first pass.
It's also important to consider how much you'll need to spend to clean up your books. Often people come to us after years of neglect.
For example, if a reasonable monthly payment for doing your books is $500, then cleaning up an entire year of neglect could be in the $5000 range.
It's crucial to consider the time you save by outsourcing your bookkeeping. According to one survey, the majority of small business owners said they spend more than 41 hours on tax preparation each year.2
Say that you spend 20 hours preparing your annual tax return. If you value your (or your employee's) time at $50 an hour, the total cost of preparing the return would be:
Cost of preparing tax return = $50 x 20 hours = $1,000 per year
Preparing tax returns is only one piece of the puzzle, and valuable time must be spent on other accounting tasks such as payroll, invoicing, bill pay, and reconciling bank accounts.
Additionally, it's crucial to monitor your financial statements on a monthly basis, giving you a clear picture of where your business stands financially. Spending even 10 hours per month on these items would cost you $500 monthly using the same model above.
Outsourced bookkeeping rates are a worthy investment because it gives your small business a greater chance of success and prosperity. At The Giersch Group, we offer a variety of services in addition to preparing our monthly bookkeeping packages, including business model comparisons and financial statements.

Get your pricingBack to top
Keeping costs affordable with a better approach to bookkeeping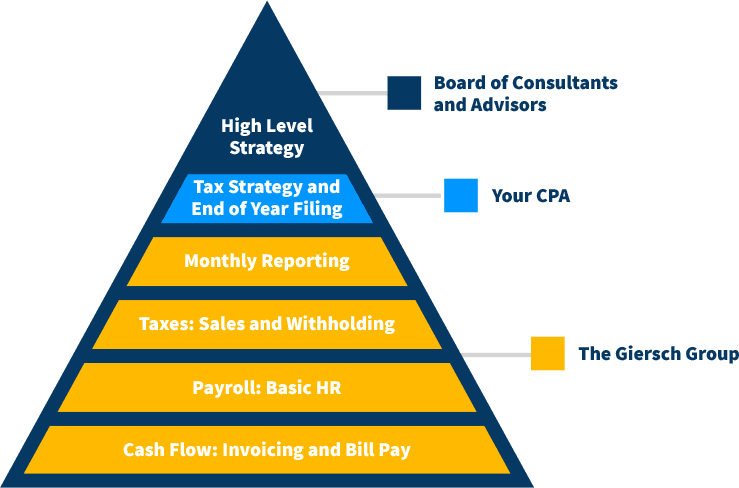 Keeping financial records for a company is a complex process involving many steps. In larger companies, these steps are separated into different roles, and even at times different departments. The benefit of bookkeeping with The Giersch Group is that you get a team approach to your financial systems needs for a very reasonable price. The Giersch Group approaches each client with the following team:

Controller: Every client of the Giersch Group is assigned a controller. The controller acts as your own personal account manager. He or she will work with you to make sure that your financials are done correctly and that your monthly report focuses on the areas of greatest concern to you with clear, accurate and timely reporting. It is the job of the controller to oversee the Giersch Group bookkeepers and to solve more complex, strategic issues.

Bookkeepers: The Giersch Group works with local universities to employ finance and accounting majors to take care of client data entry. Our interns are put through a rigorous application process which includes a brief test with questions from the Certified Professional Bookkeeper exam. Our bookkeepers work under the supervision of our controllers.
The Giersch Group bookkeeping services provide full accrual accounting, accurate reporting and a clear picture of the financial health of your business so you can make better decisions. Schedule your free consultation to find out how our experienced professionals can benefit your business.

Free consult & price quoteBack to top
What our clients are saying

Waukesha Medical Office
"My husband and I have used Giersch Group for our business and they are fantastic! More then just giving you your books, they teach you how to use and interpret them. I can't imagine NOT using them."

Milwaukee Law Firm
"Our firm uses Giersch Group for both bookkeeping and consulting. They are a bit more expensive than using our part timer, but they are WAY cheaper than paying our accountant to FIX our part timer work. Highly, highly recommend."

Wauwatosa Elder Care Consultant
"In our 4 years working with Peter, our business has tripled... Although we weren't sure that we could afford this sort of assistance when our business was so small, we know now that the reality is that we can't afford not to work with The Giersch Group."
Read more of our bookkeeping & consulting testimonials or contact us for a free consultation today.
Giersch Group Business Review Cost
Giersch Group business reviews can range from $2,500 to $8,000 depending upon the size, complexity and purpose of the review.
Giersch Group Business Management Consulting Board Services Fee
The typical fee for board services is $1000 per month, plus mileage and expenses. This can vary based upon the complexity of the business and the necessary work between meetings.
Family-Run Business Board Services Pricing
The cost of our next generation board services is $1000 per month, plus mileage and expenses. The monthly fee may vary based on the complexity of the business and work done between meetings.
Wisconsin Bookkeeping and Consulting Firm with Affordable Rates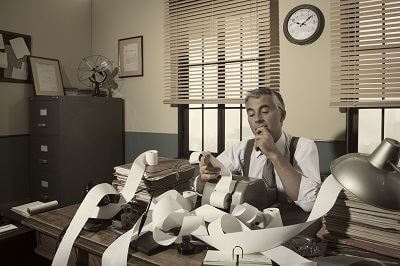 Is your freelance or in-house bookkeeper meeting your needs? Our bookkeeping service delivers consistent quality and enterprise-level financial reporting (and never takes a vacation).
The Giersch Group has offices in Milwaukee, Brookfield, and Madison, Wisconsin. We provide flexible professional services to small businesses and nonprofit organizations throughout the southeast Wisconsin including Waukesha, New Berlin, Oak Creek, Muskego, Mequon, Menomonee Falls, Port Washington, Monona, Sun Prairie, Waunakee, Middleton, Cottage Grove and the surrounding communities.
We believe in providing excellent accounting services at a reasonable price. The cost of our bookkeeping and consulting help ultimately depends on the depth and breadth of service. While bookkeeping and consulting are at the heart of our operating strategy, we also offer payroll processing, tax compliance, accounting software training and virtual CFO services.
Every type of business and nonprofit deserves and benefits from professional accounting support. We'll work with you to establish an affordable rate for services tailored to meet your business needs.
Contact the Giersch Group online to get a free consultation and personalized quote for our services.
References: