Outsourced Accounting Services in Milwaukee & Madison
Why do I need timely & accurate monthly financials?
Bookkeepers help small businesses maintain accurate financial record keeping to minimize the chance of reporting inaccurate metrics. Small businesses typically don't have the financial headroom to afford any potential mistakes, so a professional bookkeeper can help you keep your books straight and avoid any unnecessary fines due to inaccurate reporting. Contact Giersch group for a free consultation. Learn more.
Online bookkeeping plus software setup & training for small businesses
The Giersch Group is a family-owned bookkeeping and consulting firm dedicated to helping entrepreneurs and nonprofit directors throughout Wisconsin. Our online accounting services provide the complete and accurate financial information small businesses and startups need in order to operate efficiently and thrive.
Hire a virtual CFO, get set up and trained with QuickBooks™ or outsource your bookkeeping entirely. No matter what level of support you need, the Giersch Group will help take the burden of managing financial statements, ledgers, budgeting, accounts payable/receivable and other accounting tasks off your shoulders. Our services are 100% virtual and available nationwide.
How do I build an accounting team for my small business?
A small business finance and accounting team has three roles to fill and they are bookkeeper, financial controller and chief financial officer. The bookkeeper and controller are responsible for producing timely and accurate financial statements and the CFO uses those statements to make decisions about business and financial strategies.
In a small business you will often find one person filling multiple roles as for example someone who does the bookkeeping and controller work or someone who does the controller and the CFO work. Many small businesses will have an internal bookkeeper and outsource the controller and CFO roles.
Because of the challenge hiring and keeping good accounting professionals the Giersch Group recommends that you outsource all of these functions. The Giersch Group is able to provide excellent bookkeeping, controller, and CFO work at a reasonable price.
"The Giersch Group is so much more than just a bookkeeping firm. They have helped me to better understand profit margins and pricing and have worked with me on thinking through a long-range plan for success."
--Caitlin Carmody, Caitlin Carmody Stables LLC
We offer a range of virtual financial support services (full-time and part-time onsite services also available):
The Giersch Group focuses on cost-effective remedies for problems many small businesses face with cash flow, accounts receivable and debt. Learn more about the cost of bookkeeping and other professional services or schedule your free consultation today.
Why outsource accounting services?
Outsourcing your accounting (and tax preparation) saves busy business owners time and money.
You choose exactly which accounting services are outsourced, and only pay for what you need.
You'll get on-time, impeccable financial reporting plus insights on how to use your numbers to make better business decisions. As your business grows, our firm has the experience and resources to keep up.
All for a fraction of the cost of hiring an in-house accountant.
Disadvantages of outsourcing your accounting
Outsourcing accounting and bookkeeping tasks isn't ideal for every business. Sometimes an organization just needs a temporary bookkeeper or controller to step in to fill an employment gap or cover for someone on leaves.
Then there are individuals who simply aren't comfortable handing over their books to an outside company. Whether it's a question of taking the time to establish trust or a preference for face-to-face conversations about your financial reporting, we understand.
In addition to virtual accounting services, we also provide businesses in our service area with part-time or temporary support. You can read testimonials from dozens of Wisconsin businesses and nonprofits we've helped over the years, or simply meet us in person for a free consultation to get to know the team.
Benefits of mobile accounting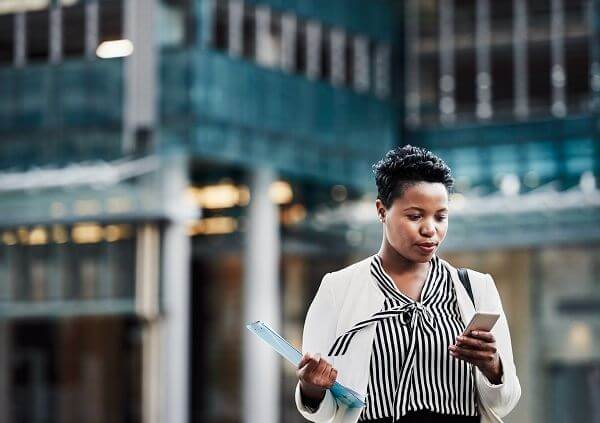 Mobile accounting makes tracking your financials more convenient without compromising security.
Mobile accounting means you can access your business accounting information using mobile devices (like a smart phone, tablet or laptop) rather than being restricted to your office desktop computer.
Online banking using an app is one example of mobile accounting many people are familiar with.
Mobile accounting is quickly becoming more and more popular as business owners and freelancers realize its many benefits:
Mobile accounting makes it easier to work with others, even in different locations and different devices
Mobile accounting make it easier to work from home, from a hotel or wherever you have an internet connection
Mobile accounting simplifies file sharing – people you authorize can view a file saved in the cloud, reducing the need for email attachments
With mobile accounting, your data is always backed up, even if a device is broken or lost.
Invoicing, getting paid and managing cash flow are all easier and faster on a mobile platform. Mobile accounting technology helps level the playing field for small and medium-sized businesses.
Best cloud-based accounting software for small & medium sized businesses
The Giersch Group urges all our clients to migrate to QuickBooks™ online or a similar cloud-based accounting solution.
Although every business is different, we strongly recommend the use of QuickBooks™ Online services. As QuickBooks Online Certified ProAdvisors we have an abundance of resources to help you get the most out of your cloud-based accounting software.
Learn more about QuickBooks Online benefits, capabilities, security and support services we offer, or just bring your questions to your free consultation.
Affordable accounting services for startups
The Giersch Group will help your startup establish or refine accounting processes and more importantly understand how to use your financial data to grow your business.
The guidance of experienced accounting professionals is invaluable to startups; with the Giersch Group it's affordable. Book your free, no-pressure 30-minute consultation today to find out how optimal accounting systems can help your new venture become profitable more quickly. We also offer bookkeeping services for startups, CFO services for startups and small business consulting services for new and established businesses alike.
Benefits of our outsourced bookkeeping & CFO services
Small business owners benefit greatly by hiring an experienced bookkeeping firm to manage their financials. Our team of experienced professionals can provide extra support during your busy season, provide continuity after a sudden resignation and train you and your staff how to read and use the data provided by your financial statements.
The Giersch Group has reasonable bookkeeping fees comparable to the cost of hiring a full-time controller without the additional expenses of benefits and employer taxes. Learn about the differences between a bookkeeper, accountant, CPA and controller and why our approach works better for small businesses.
Check Writing and Collection Calls
In today's business world owners must handle many tasks in order to remain competitive. Working with strained budgets and limited resources is strenuous on an owner. Outsourcing check writing and collection calls in particular offer a major cost-saving as well as allowing employees to focus their time on other tasks. Let the Giersch Group help you with administrative work so you can spend time on high-value activities that promote your company's growth.
Audit Support
When your company is ready for its annual audit the Giersch Group bookkeeping team will work seamlessly with your CPA team to complete the audit. Our client controllers are skilled in handling audit requests regarding general ledgers, sample transaction verification, amortization schedules, payroll reports, and other information as requested. We also work closely with CPA firms along these same lines to help them complete your annual tax returns. After your audit or tax return is complete Giersch Group client controllers will work with your CPAs to obtain and perform the necessary adjusting journal entries to ensure that your financials match your year-end audit and tax reporting.
Service area for our onsite & remote accounting services
Giersch Group provides outsourced bookkeeping & virtual CFO services anywhere in Wisconsin and across the nation.
From our offices in Milwaukee, Madison and Brookfield our in-office bookkeeping benefits businesses located in and around Milwaukee, Dane, Ozaukee, Washington and Waukesha counties.
Milwaukee County bookkeepers serving: Downtown Milwaukee, Shorewood, Whitefish Bay, Glendale, Fox Point, River Hills, Brown Deer, Granville, Butler, Wauwatosa, West Allis, Greenfield, Hales Corners, Greendale, Franklin, Oak Creek, South Milwaukee, Cudahy, St. Francis & everywhere in between.
Dane County bookkeepers serving: Madison, Middleton, Waunakee, Windsor, Sun Prairie, Cottage Grove, McFarland, Fitchburg, Verona, Riley, Pine Bluff, Cross Plains, Springfield Corners, Black Earth, Mazomanie, Mt. Horeb, Belleville, Rutland, Stoughton, Kengosa, Deerfield, Monona & everywhere in between.
Ozaukee County bookkeepers serving: Mequon, Thiensville, Cedarburg, Lakefield, Grafton, Saukville, Port Washington, Knellsville, Newburg, Waubeka, Fredonia, Holy Cross, Belgium, Dacada & everywhere in between.
Waukesha County bookkeepers serving: Waukesha, Brookfield, New Berlin, Muskego, Big Bend, Vernon, Mukwonago, Jericho, Eagle, North Prairie, Saylesville, Genesee Depot, Ottawa, Wales, Dousman, Delafield, Oconomowoc, Monterey, Nashotah, Hartland, Merton, Town of Lisbon, Sussex, Lannon, Menomonee Falls, Butler, Pewaukee & everywhere in between.
Washington County bookkeepers serving: Germantown, Hubertus, Richfield, Thompson, Ackerville, Hartford, Kirchhayn, Jackson, Cedar Creek, Slinger, Cedar Lake, St. Lawrence, Allenton, Addison, St. Anthony, Kohlsville, Wayne, Kewaskum, Boltonville, Fillmore, Cheeseville, Young America, West Bend, Nabob and everywhere in between.
Taking Milwaukee Area Small Businesses to the Next Level
The Giersch Group does more than manage your books. We help small business owners manage essential financial records to make running your business more rewarding. With timely, accurate financial information we can give you a clear picture of how your business is doing and how to help it grow. Our services are available 100% online for small businesses nationwide.
Contact Giersch today for the best outsourced bookkeeping service in Milwaukee!
Frequently Asked Questions:
Yes. Keeping your books straight is very important to ensure the growth and financial success of your business. If you're not an accountant by trade, it's strongly recommended that you leave the meticulous bookkeeping to trained experts.
You should have one. Staying organized from the start is very important and can lead to incredible growth and success. A bookkeeper is exactly what you need to make that happen and make sure that you're staying up to date and accurate with your financial records.
Yes. We offer any financial services ranging from complete bookkeeping to looking over your records and making sure that you're staying accurate and all your books are straight. We can even teach you all about good and bad practices for record keeping as well.