Outsourced Accounts Payable Services
Affordable services for outsourced AP for small and medium-sized businesses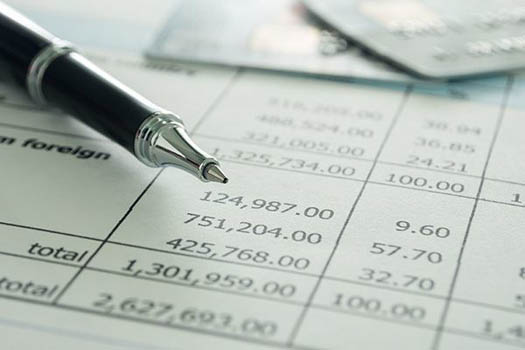 Get comprehensive and dependable accounts payable services from the Giersch Group.

Running a successful business requires proper and constant management of your accounts payable. Without a complete and accurate accounts payable ledger, bills can slip through the cracks and forgotten about until they disrupt the flow of supplies and services. Improper management can also lead to costly overdue or late fees or even allow fraud and theft to go largely unnoticed.
Despite how important this is to the overall health of the business, hiring an in-house specialist or team to handle your accounts payable just isn't feasible, realistic or cost-effective for many businesses.
The experts at the Giersch Group have a vast understanding of and many years of experience dealing with the unique accounts payable issues facing small and medium-sized businesses. Contact us to schedule a free 30-minute consultation to find out how we can be of the most benefit to your company! Consultations can be held online or in person. If you would prefer an in-person consultation, we have locations in Milwaukee, Brookfield and Madison. All services from the specialists at the Giersch Group are 100% online and available nationwide.
What is accounts payable?
When a company purchases goods and services from a supplier or creditor on credit that needs to be paid back in a short period of time, the accounting entry is known as Accounts Payable (AP). On a balance sheet, it appears under current liabilities.
INTERNAL PAYMENTS
Internal reimbursement payments, petty cash monitoring, and sales tax exemption certificates distribution are all handled by Accounts Payable.
Receipts or manual reports must be submitted by employees to justify reimbursement requests. Petty cash is used to pay for small expenses such as postage, out-of-pocket office supplies, or lunch at a work conference. Sales tax exemption certificates are frequently granted to managers by AP to ensure that qualifying business purchases are free of sales tax.
VENDOR PAYMENTS
Using a computer database, accounts payable organizes and manages vendor contact information, payment conditions, and IRS W-9 information. AR is also in charge of end-of-month aging analysis reports, which show management how much money the company owes.
OTHER FUNCTIONS
Accounts payable also helps a company save money by detecting details and developing cost-cutting solutions. Consider what happens if an invoice is paid during a discount period offered by multiple vendors. AP is also a direct route of communication between a company and its vendors. Strong business ties between the two could be beneficial to the organization.
What is the accounts payable process?
Accounts payable is a collection of procedures that must be followed before a vendor payment can be made. Because of the value and amount of transactions that occur over time, it is necessary to establish criteria.
The process involves:
Receiving the bill: If products were purchased, the bill aids in the tracking of the quantity received.

Review bill details

: Ensure that the bill contains the vendor's name, authorization, date, and verified and matching purchase order criteria.

Updating records once the bill is received

: Based on the received bills, ledger accounts must be updated, and an expense entry is frequently necessary. With the approval hierarchy tied to the bill value, managerial approval may be required at this step.

Making a timely payment

: All payments should be completed before or on the due date on a bill unless a vendor and a purchasing business have agreed otherwise. It is necessary to prepare and verify the required documents. Check the information on the check, the vendor's bank account, payment vouchers, the original bill, and the purchase order. It's possible that managerial approval is also necessary at this point.
Bill.com - The best accounts payable software for small businesses
Through our years of experience, we have consistently found that Bill.com is the best accounts payable solution for small businesses. Bill.com is a cloud-based system that allows you to approve invoices anywhere, at any time. The specialists at the Giersch Group can help cut your accounts payable processing time in half by helping you switch to Bill.com. We can help set up your businesses with Bill.com, migrate your data, and even teach you how to use the platform to the greatest benefit of your company.
Just a few of the benefits of switching to Bill.com include:
Increase efficiency

- Bill.com saves time by automating busy work so you can focus on what's more important, your business.

Stay in sync

- Bill.com connects with top accounting software, including Quickbooks

Simplified international payments

- the ability to pay vendors in various countries and currencies

Be prepared

- payment-related activities are logged for easy reference

Secure solutions

- data-in-transit is encrypted using an industry-standard Transport Layer Security (TLS)
3 Signs You Need Outsource Your Accounts Payable
1. Your Business is Rapidly Growing
Your business growing quickly is an exciting time for many business owners. With expanded growth comes expanded challenges that you or your current accountant may not be suited to handle. As your business grows your needs will evolve, more invoices, more staff, and more headaches. That's where we come in. Our outsourced accounts payable service will help you keep timely and accurate financial statements so you always have the clearest picture of how your business is actually doing.
2. Your Accounting Needs Change Throughout The Year
Many businesses are seasonal and their accounting needs fluctuate greatly during the course of the year. Outsourcing your accounts payable services is a great solution for these types of businesses. Whether you are looking to replace your current accountant or add to your team during the busy season, Giersch Group is the bookkeeping firm that hundreds of businesses nationwide trust.
3. Mitigate Risk
If your accounting team only consists of one or two people you may be leaving yourself overexposed to risk. Only having one or two accountants keeping track of your books can lead provide opportunities for theft, fraud, or inaccuracies. In addition to mitigating risk in your accounting you will no longer ever have to worry about current employees leaving or training new employees to be familiar with your business. Our experienced accounts payable experts are ready to hit the ground running so you can do what you do best.
Outsourced & Onsite Accounts Payable Services for Wisconsin
Our virtual accounts payable services are available for businesses in Wisconsin and anywhere in the country. Based out of our offices in Milwaukee, Madison and Brookfield, we primarily serve businesses in and around Milwaukee, Dane, Ozaukee, Washington and Waukesha counties with in-office bookkeeping services.
Milwaukee County bookkeepers serving: Downtown Milwaukee, Shorewood, Whitefish Bay, Glendale, Fox Point, River Hills, Brown Deer, Granville, Butler, Wauwatosa, West Allis, Greenfield, Hales Corners, Greendale, Franklin, Oak Creek, South Milwaukee, Cudahy, St. Francis & everywhere in between.
Dane County bookkeepers serving: Madison, Middleton, Waunakee, Windsor, Sun Prairie, Cottage Grove, McFarland, Fitchburg, Verona, Riley, Pine Bluff, Cross Plains, Springfield Corners, Black Earth, Mazomanie, Mt. Horeb, Belleville, Rutland, Stoughton, Kengosa, Deerfield, Monona & everywhere in between.
Ozaukee County bookkeepers serving: Mequon, Thiensville, Cedarburg, Lakefield, Grafton, Saukville, Port Washington, Knellsville, Newburg, Waubeka, Fredonia, Holy Cross, Belgium, Dacada & everywhere in between.
Waukesha County bookkeepers serving: Waukesha, Brookfield, New Berlin, Muskego, Big Bend, Vernon, Mukwonago, Jericho, Eagle, North Prairie, Saylesville, Genesee Depot, Ottawa, Wales, Dousman, Delafield, Oconomowoc, Monterey, Nashotah, Hartland, Merton, Town of Lisbon, Sussex, Lannon, Menomonee Falls, Butler, Pewaukee & everywhere in between.
Washington County bookkeepers serving: Germantown, Hubertus, Richfield, Thompson, Ackerville, Hartford, Kirchhayn, Jackson, Cedar Creek, Slinger, Cedar Lake, St. Lawrence, Allenton, Addison, St. Anthony, Kohlsville, Wayne, Kewaskum, Boltonville, Fillmore, Cheeseville, Young America, West Bend, Nabob and everywhere in between.
Outsourced Accounts Payable Solutions for Small and Medium-sized businesses
Our Milwaukee bookkeeping firm has the resources to more efficiently handle the accounts payable services for your small business. Schedule a free, no-obligation consultation with the Giersch Group. We are able to meet virtually or in person at our Brookfield, Milwaukee or Madison locations. All services provided by the Giersch Group are able to be 100% virtual and are available nationwide.