Wisconsin Remodelers Association 2016 Spirit of Education Award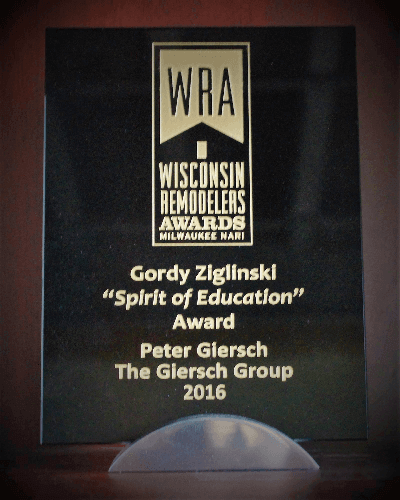 We're proud to be recognized for our service to construction industry professionals.
The Gordy Ziglinski "Spirit of Education" Award is named after Gordy Ziglinski, who became a member of Milwaukee/NARI in 1979, and spent his time as an active member of almost every committee.
While serving on the ethics committee, he not only worked with the Better Business Bureau to help set standards for the industry, but also assisted with the development of the Council's Rules and Regulations, as well as the Standards of Procedures Code of Ethics.
In 1994, he set up the Education/Certification committee, serving as chairperson until 1996, and was responsible for beginning the certification program for Milwaukee/NARI members.
The Giersch Group provides specialized bookkeeping services for contractors and other construction industry professionals. We also offer strategy consulting, QuickBooks training and payroll services.
Get a free initial consultation in Milwaukee, Madison, or Brookfield WI.